A prototype "Apple Computer A" Apple-1 computer owned by Steve Jobs is up for auction starting today, and is expected to fetch $500,000.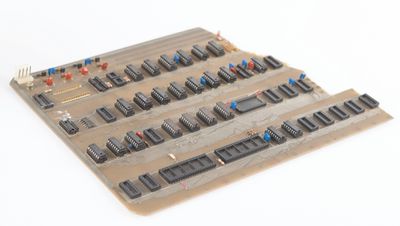 Sold by Steve Wozniak in 1976, the Apple Computer A printed circuit board was used by Steve Jobs to demonstrate the Apple-1 to Paul Terrell, who was the owner of The Byte Shop in Mountain View, California. The Byte Shop became the first retailer of the Apple-1 computer after Terrell ordered 50 fully assembled machines and sold them for $666.66 each.
Apple Computer A is paired with photographs taken by Terrell in 1976, showing the prototype in use. This machine was listed as machine number two in the Apple-1 Registry and was considered "lost" until it was verified by Apple-1 expert Corey Cohen.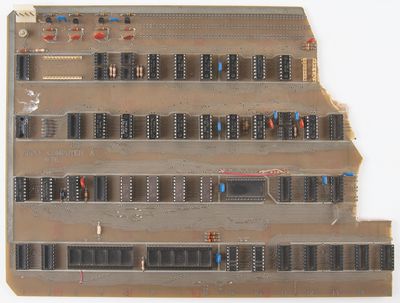 As described by RR Auctions, the site hosting the sale, there is some damage to the board.
This prototype lived in the 'Apple Garage' property for many years before Steve Jobs gave it to its current owner about 30 years ago. At the time, Jobs was fired from Apple and was looking forward to the promise of NeXT and Pixar. The current state of the board gives some insight into Jobs' judgment of it: he saw the prototype not as something that should be kept, but something that should be reused. Several of the ICs were removed from their sockets, such as the microprocessor and other components, probably for use in early production Apple-1 Computers.

The board appears to have been damaged by pressure on the top right, resulting in a crack running from the adjacent power supply area on top of D12 to the bottom of the board on the right of A15. The missing piece was thought to have been thrown away, but can be re-imagined thanks to Paul Terrell's photographs of the complete board. One of the distinguishing features of the "Apple Computer A" prototype was its use of three orange Sprague Atom capacitors, instead of the familiar 'Big Blue' capacitors used in the production Apple Computer 1.
Compared to the production Apple-1 machines, the prototype had words that read "Apple Computer A," it had a different processor, and it lacked the green protective coating of typical Apple-1 computers.
Due to the prototype's rarity, RR Auction expects it to fetch a high price at auction despite the damage.
Related Stories
Rare Apple-1 Computer Signed by Steve Wozniak Up for Auction
An original and usable Apple-1 computer is up for auction on eBay, where it can fetch hundreds of thousands of dollars. The Apple-1 computer available for sale is known as the "Schlumberger 2" Apple-1, and it has been restored to perfect working condition. One of only dozens of Apple-1 computers left, the device is said to have "virtually all period-correct components" with …
Rare Check Signed by Steve Jobs and Steve Wozniak Expected to Bring $25,000+ at Auction
As part of the "Steve Jobs Revolution" collection, RR Auction this week is selling several pieces of rare Jobs-related memorabilia, including a check signed by Steve Jobs and Steve Wozniak. Dated July 15, 1976, an "Apple Computer Company" check made out to Kierulff Electronics for $3,430. The check was written the same month Wozniak showed the first…
Rare First Batch Apple-1 to Bring Over $250,000 at Auction
Another rare Apple-1 computer is up for auction, and it has a bid of over $250,000. The Apple-1 was the first Apple product created by Steve Jobs and Steve Wozniak when Apple Computer was founded, and very few remain. Apple-1 models that come up for auction often fetch high prices due to their rarity, and this particular Apple-1 for sale is number 7…
Steve Jobs' Scrapped Apple VideoPad Device Heads to Auction
Bonhams has announced today that it will auction several rare prototype Apple devices on November 3, including a never-before-released VideoPad. The VideoPad was intended to be a personal digital assistant (PDA) device similar to Apple's Newton MessagePad series, with Apple testing three versions of the device between 1993 and 1995, including the VideoPad 1, VideoPad 2, and VideoPad 3, according to in. .
Steve Jobs Posthumously Awarded the Presidential Medal of Freedom
The co-founder and former CEO of Apple, Steve Jobs, is now posthumously awarded the Presidential Medal of Freedom by US President Joe Biden. When the recipients were announced earlier this week, the White House said Jobs' inventions changed the way the world communicates. Steve Jobs (d. 2011) is the co-founder, chief executive, and chair of Apple, Inc., CEO of Pixar and holds a leading role in…
Steve Jobs to be Posthumously Awarded the Presidential Medal of Freedom
The co-founder and former CEO of Apple, Steve Jobs, will be posthumously awarded the Presidential Medal of Freedom, the White House announced today. The Presidential Medal of Freedom is the highest civilian honor of the United States, presented to individuals "who have made outstanding contributions to the prosperity, values, or security of the United States, world peace, or other significant society, …
Rare Apple-1 Computer in Koa Wood Case Takes $500,000 at Auction
A rare fully functional Apple-1 computer sold for $500,000 at auction this week, according to John Moran Auctioneers in California (via BBC News). The rare Hawaiian koa wood-cased Apple-1 has only had two owners, a college professor and his student to whom he sold the machine for $650. Sale includes user manual and Apple software on two cassette tapes. Apple co-founder Steve…
Popular Stories
iPhone X vs. iPhone 14 Pro: New Features to Expect if You're Waiting to Upgrade
Launched in 2017, the iPhone X is a major evolution of the iPhone. The device replaces the Home button and Touch ID with swipe-based navigation and Face ID, while introducing new features such as OLED display, Animoji, wireless charging, and more. Even five years later, the iPhone X is still a capable smartphone. If you're holding on to your iPhone X and thinking of upgrading to…
M2 'Extreme' Chip Powers New Mac Pro for Blazing Fast Performance
Apple is working on a new Mac Pro with an M2 "Extreme" chip, according to a recent report from Bloomberg's Mark Gurman. The Mac Pro is one of the last Intel-based Mac models still on sale, and a version with Apple silicon has been expected for more than two years now. At its "Peek Performance" event earlier this year, Apple even teased the launch of the Apple silicon Mac Pro, saying that "that…
MacBook Air Teardown Reveals M2 Chip and Single Storage Chip for 256GB Model
YouTube channel Max Tech recently shared a video teardown of the new MacBook Air, giving a look inside the redesigned notebook. In general, the internal design of the new MacBook Air looks similar to the previous model, but the flat shell allowed for Apple to fit larger battery cells inside the notebook. The new MacBook Air is equipped with a 52.6-watt-hour battery, compared to a …
Hands-On With Transparent Nothing Phone 1
It's not often that a new smartphone makes waves in the tech world due to an eye-catching design or innovative features, and this month, the Phone 1 from No starred in reviews and videos thanks to its LED-laden transparent design and affordable price point. . We picked the Nothing Phone 1 to see how it measures up to Apple's iPhones. Subscribe to the MacRumors YouTube channel for more…
iFixit Tears Down M2 MacBook Air, Finds Accelerometer and Adhesive Pull Tabs for Battery
With the M2 MacBook Air now available for purchase, repair site iFixit picked one up and decided to do one of the traditional teardowns of the machine to give us a look inside. An earlier teardown has already revealed the biggest potential issue with the base model 256GB M2 MacBook Air – a storage chip, which iFixit's teardown confirmed. Instead of using two 128GB NAND storage chips…
Apple Releases iOS 15.6 With New Live Sports Features, Save Bug Fixes and More
Apple today released iOS 15.6 and iPadOS 15.6, the sixth major updates to the iOS and iPadOS 15 operating systems that were first released in September 2021. iOS 15.6 and iPadOS 15.6 arrive about two months after the launch of iOS 15.5 and iPadOS 15.5. The iOS 15.6 and iPadOS 15.6 updates can be downloaded for free and the software is available on all eligible devices over-the-air on…